Erasmus + mobility funding
The Vocational School for Hotel Management Pegnitz has been taking part in the European mobility programs continuously since 2008 Leonardo da Vinci and Erasmus + part. The vocational school students can complete their hotel internships in other European and worldwide countries. International learning experiences are part of the professional requirement profile in the hotel industry. The sponsored stays abroad in vocational training are an excellent opportunity to acquire international professional skills. The international internships of our participants are carried out in hotels of the highest categories.
Depending on the destination country, the participants receive a subsidy for travel expenses and a flat rate for accommodation costs for each individual day. We pass on the flat rates we have applied for in full to our participants. Students interested in language can take part in the language course lasting several weeks at the partner school HECANSA on Gran Canaria and Tenerife. The language course is also funded in connection with the projects.
Internships abroad from July 2021 to January 2022
Posthotel Achenkirch Alpenresort Schwarz Schlosshotel Kitzbühel A-ROSA Hetteger Hotel Edelweiss Naturhotel Forstguthof
· Interalpen-Hotel Tyrol · Hotel Das Ronacher · Casablanca Suites.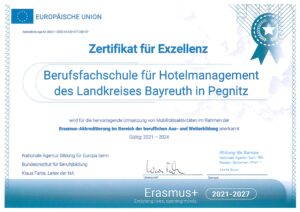 We have received several awards for the quality of the preparation and implementation of learning stays in other European countries, which further encourage us to prepare funded mobilities for our students.
Certificate for excellence as part of the Erasmus accreditation 2020-1-DE02-KA120-VET-008107 (Aug 2021)
Erasmus + Mobility Charter for Vocational Education and Training 2016-1-DE02-KA109-003483 (Sep 2016)
LEONARDO DA VINCI mobility certificate DE / 11 / LLP-LdV / MC / Z208 (May 2011)
As an accredited institution, we can set aside 20% of our budget for stays abroad also outside of Europe.
We thank you for the excellent support of the vocational training from the European mobility programs. Our national partner for the promotion of mobility is the Education for Europe agency at the Federal Institute for Vocational Education and Training in Bonn. Hotel Escuela de Canarias SA (HECNANSA) is a long-term partner in the preparation and implementation of language courses in connection with hotel internships.
| Project | Period | Total funding |
| --- | --- | --- |
| 2020-1-DE02-KA116-006628 | Jun 2020 - May 2023 | running project |
| 2019-1-DE02-KA116-005273 | Jun 2019 - May 2021 | 99.865,00 € |
| 2018-1-DE02-KA116-004483 | Jul 2018 - Jun 2020 | 107.343,00 € |
| 2017-1-DE02-KA116-003542 | Jul 2017 - Jun 2019 | 85.858,00 € |
| 2016-1-DE02-KA102-002662 | Jul 2016 - Jun 2018 | 67.756,00 € |
| 2015-1-DE02-KA102-001939 | Jun 2015 - May 2017 | 41.223,00 € |
| 2014-1-DE02-KA102-000658 | Jul 2014 - Jun 2016 | 66.426,00 € |
| DE / 13 / LLP-LdV / IVT / 285 042 | Jun 2013 - May 2015 | 70.625,83 € |
| DE / 12 / LLP-LdV / IVT / 284 286 | Jun 2012 - May 2014 | 67.460,57 € |
| DE / 11 / LLP-LdV / IVT / 283 094 | Jun 2011 - May 2013 | 78.541,81 € |
| DE / 10 / LLP-LdV / IVT / 282 519 | Jul 2010 - May 2012 | 70.023,14 € |
| DE / 09 / LLP-LdV / IVT / 281 422 | Jun 2009 - May 2011 | 64.274,00 € |
| DE / 08 / LLP-LdV / IVT / 280 323 | Jan 2009 - May 2010 | 62.056,91 € |
| DE / 08 / LLP-LdV / IVT / 280 324 | Jan 2009 - May 2010 | 49.206,00 € |
| DE / 07 / PLL-LdV / IVT / 279 626 | Feb 2008 - May 2008 | 7.730,57 € |